THE REAL ESTATE MARKET: AN OPPORTUNITY IN DISGUISE
Posted by Rob Golfi on Friday, February 10, 2023 at 4:32 PM
By Rob Golfi / February 10, 2023
Comment
EXPANDED FROM THE GOLFI REAL ESTATE SHOW, JANUARY 26
The Real Estate Market: An Opportunity in Disguise
The last episode's guests, Phil Golfi from the Golfi Team and Brian Hogben from Mission35 Mortgages, discussed the current real estate market. They also presented opportunities for those willing to look beyond the surface.
This blog will dig deep into the Bank of Canada's 4.5% hike in 2022. Spoiler alert: some economists believe it will be the last. Additionally, we'll get into Hamilton's recent decisions on short-term rentals, Airbnb, and the vacant home tax. Please continue reading to know more about our recap of January 2023's interesting real estate news from our Golfi Real Estate Show hosted by Rick Zamperin and Rob Golfi.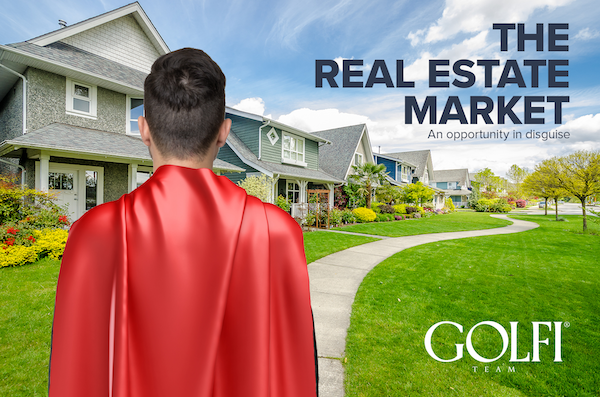 Real Estate FOMO: What Is It All About?
Phil Golfi says real estate has transitioned over the past year. The term "FOMO" (fear of missing out) was the norm, with people motivated and excited to buy real estate and achieve home ownership. This year there is much less FOMO and more unpredictability in the market, and buyers are more cautious and research their specific situation before deciding.
While last year was more about speed and making quick deals, this year, it's more about showings, details, and educating buyers. With more unpredictability in the market, people are now asking more questions about timing and the market's future. They want to know if it's an excellent time to buy, and if not, when the best time will be.
Real estate is all about education. When the market was going up, everyone wanted to jump in. But when it's gone down, people are more hesitant. It's the opposite that should happen. If you're buying real estate right now with a long-term goal of holding it for five to ten years, then you should be confident in your decision. The key is to zoom out and look at the long-term picture instead of getting caught up in negative headlines and comments.
The real estate market goes through peaks and valleys, and as buyers and investors, we must gear up and be ready for the changes that come with it. Even though interest rates are rising, the investment opportunity down the road is worth it. Rates started to go up in March of last year but are now approaching March again, and it looks like they're going to go down. It's essential to keep in mind that this is a 12-month cycle.
Rising Interest Rates: A New Challenge for Homebuyers
One of the biggest concerns for today's homebuyers is the prospect of rising interest rates, said Brian. A generation of buyers has never experienced this phenomenon, as interest rates have remained low for several years. History tells us that rising interest rates are a common occurrence in the world of real estate. For example, in 1980, homeowners paid an average of $2,200 per month, with much of their income consumed by mortgage payments and bills, Brian added.
Despite these challenges, homeownership remained a top priority for many people. They tightened their belts, budgeted, and sacrificed to keep their homes. Research shows that an average homeowner stays in their home for 7-10 years, far longer than the typical 12-18-month market cycle. This same spirit of resilience is needed today as interest rates begin to rise again.
The Home-Buying Mindset in the Current Market
"When it comes to the current housing market, many home buyers feel nervous about the state of interest rates, inflation, and recession. But, despite this uncertainty, home ownership remains a top priority for Canadians." Brian quoted.
With everything online, it can be easy to fall into the trap of only focusing on negative news, such as declining stats and rising interest rates, and can cause potential buyers to hesitate and sit on the sidelines, waiting for the "perfect" time to buy.
Yet, as Brian notes, there is also an opportunity in the current market. While prices may have come down and interest rates may be high, this is a chance to enter the market. It's all about perspective, and the narrative one chooses to believe.
Phil and Brian stated that they see the current market as a significant opportunity for home ownership. With the right advice and support, options are available. Homeownership comes down to the fundamentals of The First Home Savings Account—a savings program that allows Canadians to build wealth through real estate.
Making the Most of Your Investments
Consider your priorities. For those committed to building wealth through real estate, now is the time to be vigilant about your expenses and investments. For example, you may need to re-evaluate your spending habits. Try cutting back on lattes or other luxuries to ensure you have the resources to support your long-term investment strategy. Then, look for ways to cut costs without sacrificing your wealth-building investments.
It would help if you always found out where your savings can reach you. Let's say you've got a five or $600,000 mortgage, and you're paying off $600, $700 a month. In principle, even though the rates are higher, having such investments is a wealth builder. And that's one of the reasons why you take a long-term view of these things, not a short one. The last stat I saw was that less than 50% of Canadians even have a mortgage.
We talk about how many people have mortgages because that's our world. But the reality is that many wealthy Canadians ended up owning a home over the past 10, 15, or 20 years that may have a minimal mortgage. And that's because they stuck to the fundamentals. They paid off their mortgage, which was their most significant savings.
New Hamilton Law: Short-Term Rentals and Vacant Home Tax
Hamilton has recently implemented new rules and regulations surrounding empty homes, and they focused on short-term rental properties, adding a vacant home tax. According to Phil, the law addresses the issue of rundown properties. And it encourages property owners to sell or rent out their homes.
Phil believes that while the tax may not have a significant impact on the real estate market, it will have a positive effect on the local economy. The renovations and developments likely to result from the vacant home tax will create job opportunities and stimulate economic growth.
However, as an Airbnb owner, he strongly disagrees with banning Airbnb in the city. He believes that the housing shortage problem is not due to Airbnb but rather due to the Residential Tendencies Act and the Landlord-Tenant Board.
Phil acknowledges that Airbnb promotes economic growth in the city and is an option for families visiting loved ones or professionals coming in for events or courses. He also mentions that landlords need more protection under the current system of the Landlord-Tenant Board.
He cites his experience of a terrible situation with a tenant without interest in paying him. As a result, he opened an Airbnb and has seen its positive impact on the city's economic growth and development. He also thinks that fixing the Landlord-Tenant Board would encourage more people to consider long-term rentals.
Real Estate Fraud and How It Affects Homeowners
Phil and Brian discuss how real estate fraud is a growing problem. This severe issue can leave homeowners feeling helpless and with no recourse. Fraudsters can sell or mortgage homes without the owner's knowledge. They leave the original homeowner with no equity, investment, or property rights – a traumatic experience for homeowners that often is difficult to recover.
It is essential to consider how to prevent real estate fraud. For instance, homeowners should maintain a line of credit on their homes, even if they have paid it off. Doing so helps ensure that the title remains registered and that the homeowner can receive title insurance. Yet, this is not foolproof, as fraudsters often target homes without a mortgage.
Banks are often unwilling to investigate fraud cases as they have write-offs and losses on their side. For them, writing off the loss is more cost-effective than investing in exploring the topic, which creates a cyclical effect where fraudsters see an opportunity to act and know there is a low chance of getting caught.
Therefore it is essential for law enforcement and government agencies to step up and take action to prevent real estate fraud from happening. Homeowners can also take steps to protect themselves. First, ensure that you've registered your title, maintain a line of credit on your home, and be aware of the potential for fraud.
When You Find Money in a House, You Just Bought: The Money Belongs to the Original Owner
Buying a new home can be an exciting experience, but it can also come with surprises, like finding money in the house. Many new homeowners experience this, creating a moral dilemma of whether the money belongs to the new homeowner or the previous owner.
The answer, as surprising as it may be, is that the money belongs to the original owner. According to property law, anything left in a home after a sale is abandoned property and entitled to the previous owner. This law applies to cash, jewelry, personal items, and other valuable possessions.
The cases of Edmonton and Stratford are perfect examples of this principle. In 2017, new homeowners in Edmonton found $500,000 in cash and gold wafers and returned it to the previous homeowners. In another case in Stratford, new homeowners found $30,000 in silver coins, and a judge awarded the money to the last owner.
Returning the money to the original owner is the right thing to do, as keeping the money can cause legal and ethical problems that can be costly and time-consuming to resolve. It can also tarnish the reputation of the new homeowner and may impact future real estate transactions.
Brian and Phil advised new homeowners that finding the previous owner may be challenging. But it's best to contact the real estate agent who handled the sale and see if they can assist in locating the previous owner. It should turn the money over to the local authorities as unclaimed property if the previous owner is unavailable.
Conclusion
In conclusion, the real estate market has significantly transitioned over the past year. And the recent hike in interest rates has posed a challenge for home buyers. But the current market is a significant opportunity for home ownership if approached with the right advice and support.
They emphasized that building real estate wealth is about a long-term perspective. It is crucial to be vigilant about expenses to make the most of investments.
Homeownership is a dream for many Canadians, and it remains a top priority for them. It's a defining aspect of the Canadian lifestyle and a source of pride for many. Homeownership is still a great option for Canadians, despite recent challenges and uncertainties in the real estate market.
With the right mindset and approach, the current market is an opportunity in disguise. Low-interest rates and more affordable housing options are examples of why now may be an excellent time to consider buying a home.
However, it's essential to research, and homeowners take the necessary steps to make a wise financial decision. This process can include getting pre-approved for a mortgage. Then, seek out the help of a real estate agent, and ensure you have a solid understanding of the local housing market. Ultimately, homeownership is a goal that's well within reach for Canadians, with the determination to make it a reality.
Join Rick Zamperin and Rob Golfi, Sales Representative with The Golfi Team, for valuable insights and expert advice on the real estate industry. Take advantage of the inside scoop. Set your reminders now! Tune in to The Golfi Real Estate Show every Saturday at 9 a.m. for an informative and enjoyable listen.