Golfi Grad Signs Go Green
Posted by Rob Golfi on Wednesday, May 25, 2022 at 4:14 PM
By Rob Golfi / May 25, 2022
Comment
RE/MAX Escarpment Golfi Realty Inc. launched their annual Golfi Grad Sign Campaign on Tuesday, May 24, 2022. Like the past two years, The Golfi Team wants to honour graduates and their success. The Golfi Grad Sign campaign recognizes graduates of kindergarten, grade 8, grade 12, and post-secondary.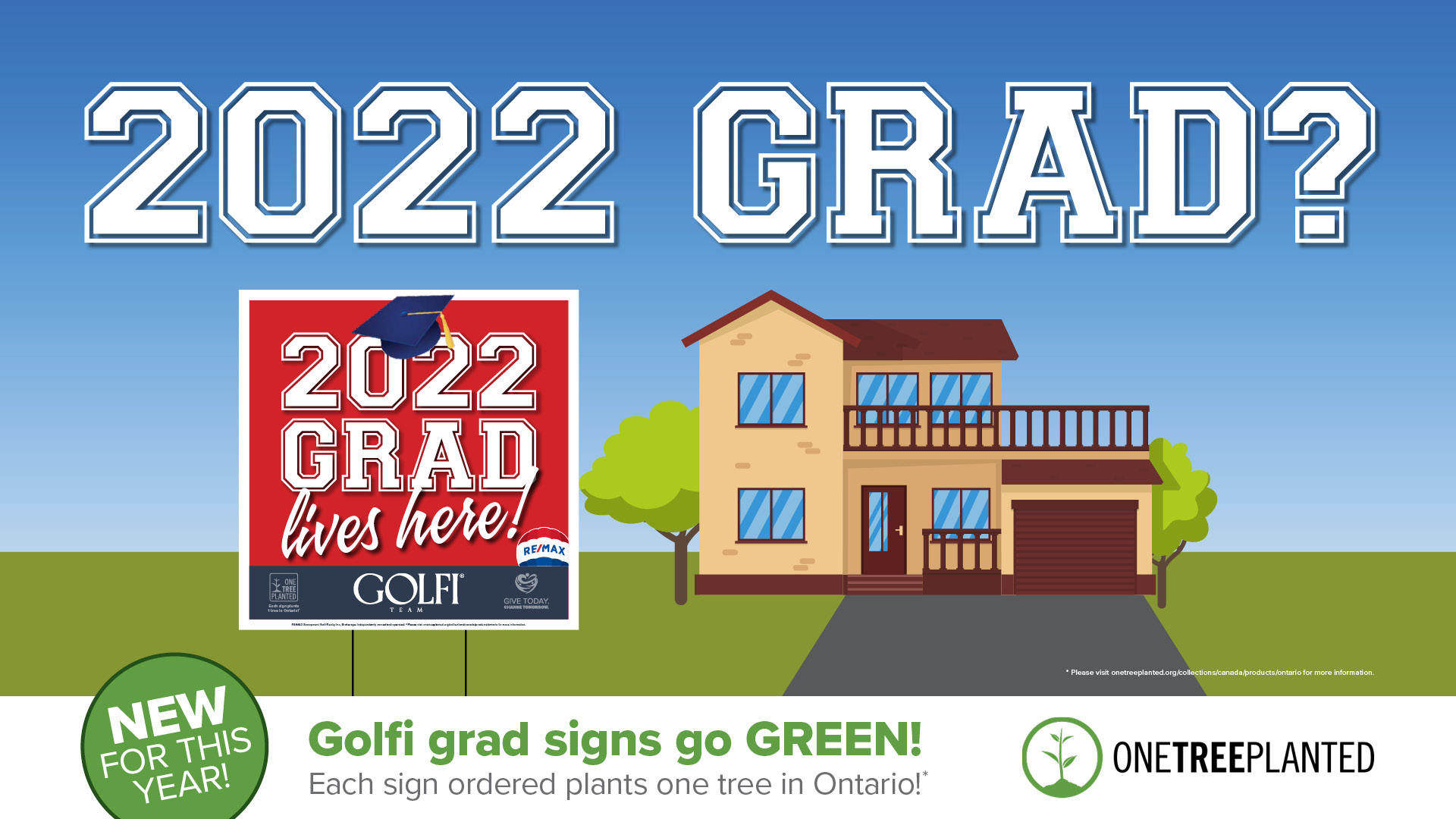 You can order a FREE grad sign to honour the graduate(s) in your household. Graduating is a very exciting academic achievement that deserves all the recognition. What better way to celebrate this milestone than entering a giveaway with incredible prizes? This year, Golfi Grad Signs are taking an environmentally sustainable approach. Rob Golfi, Team Leader, RE/MAX The Golfi Team says, "We love giving back to the community, but we thought it would be even better to give back to our planet as well."
With each grad sign ordered, The Golfi Team is planting one tree in Ontario. "We want to plant 500 trees, that's our goal" says Golfi. The response brought overwhelming joy for The Golfi Team, previously reaching over 1000 graduates. "We hope to reach even more graduates this year" says Golfi, "Imagine we plant over 1000 trees?" Each tree will be planted through One Tree Planted, a non-profit organization focused on global reforestation. "We admire RE/MAX Escarpment The Golfi Team's dedication to local communities through their graduation sign campaign and contest, and appreciate their integrating sustainability into this year's initiative." says Matt Hill, Founder & Chief Environmental Evangelist at One Tree Planted. "With RE/MAX Escarpment The Golfi Team's generous support, we're restoring forests, creating habitat for biodiversity, and making a positive social impact around the world."
Additionally, all graduates have the exciting opportunity to win a prize from The Golfi Team when they receive their lawn sign. Graduates can post a picture with their sign on social media and follow a few simple steps to enter the contest. The kindergarten grad will win a $200 Toys R Us gift card, the grade 8 grad will win a $500 Visa gift card, and the grade 12 and post-secondary grads will win a $1000 cheque to help set them on their way for the future. Help The Golfi Team plant 500 trees in Ontario by visiting www.golfigrads.com for the contest details and to order your FREE grad sign.